Eleven downtown galleries conveniently located within walking distance of one another invite you to stroll our Downtown Gallery Walk all year! Mark your calendars for the First Friday of every month, when galleries will host special exhibits, serve refreshments, and have extended hours from 5-8 PM.
You'll find a wealth of artwork in eleven distinct galleries whose atmospheres range from sophisticated to funky. Whatever your taste in fine art and craft, you're sure to find something you love during your Downtown Gallery Walk.
While you're enjoying your Downtown Gallery Walk, don't miss the opportunity to experience our many restaurants, shops, theatres, and museums that make Bloomington a must-visit cultural destination!
By Hand Gallery will be hosting the following Gallery Walk events:
February
Vessels
Friday, February 3rd, 5-8 PM
Larry Spears's personal involvement in creating pottery spans over forty years of working with clay. Basically, he makes pots. Larry still feels that it is one of the most expressive art mediums. The shapes he uses have been evolving over the past four decades. He continually analyzes and formulates constant changes when developing his ever-expanding glaze palette. Many of his pieces are sprayed, dipped, brushed, spattered and layered with various glazes and slips. The majority of Larry's work is fired in reduction in a gas kiln to cone 9.
The work for the exhibit "Vessels", includes many new pieces with hand built appendages made from clay and various other elements. The aim of these designs is to create contrasting color and surface elements that work in harmony with the form.
March & April
Sandy Taylor: Paintings from the Well
Friday, March 3rd, 5-8 PM
Friday, April 7th, 5-8 PM
Sandy Taylor (1937-2016) was an important, ever-present participant in the evolution of Bloomington's art scene for many decades. After forty years of a rich interdisciplinary focus, Sandy's abstractions congealed into a style that seemed to synthesize the automatic gesture, layered and textured fields of subtle color, and pictographic emblems. This exhibition is a selection of her recent paintings and a tribute to her unquenchable search for beauty, her profoundly generous spirit, and her gifts to the arts in our community.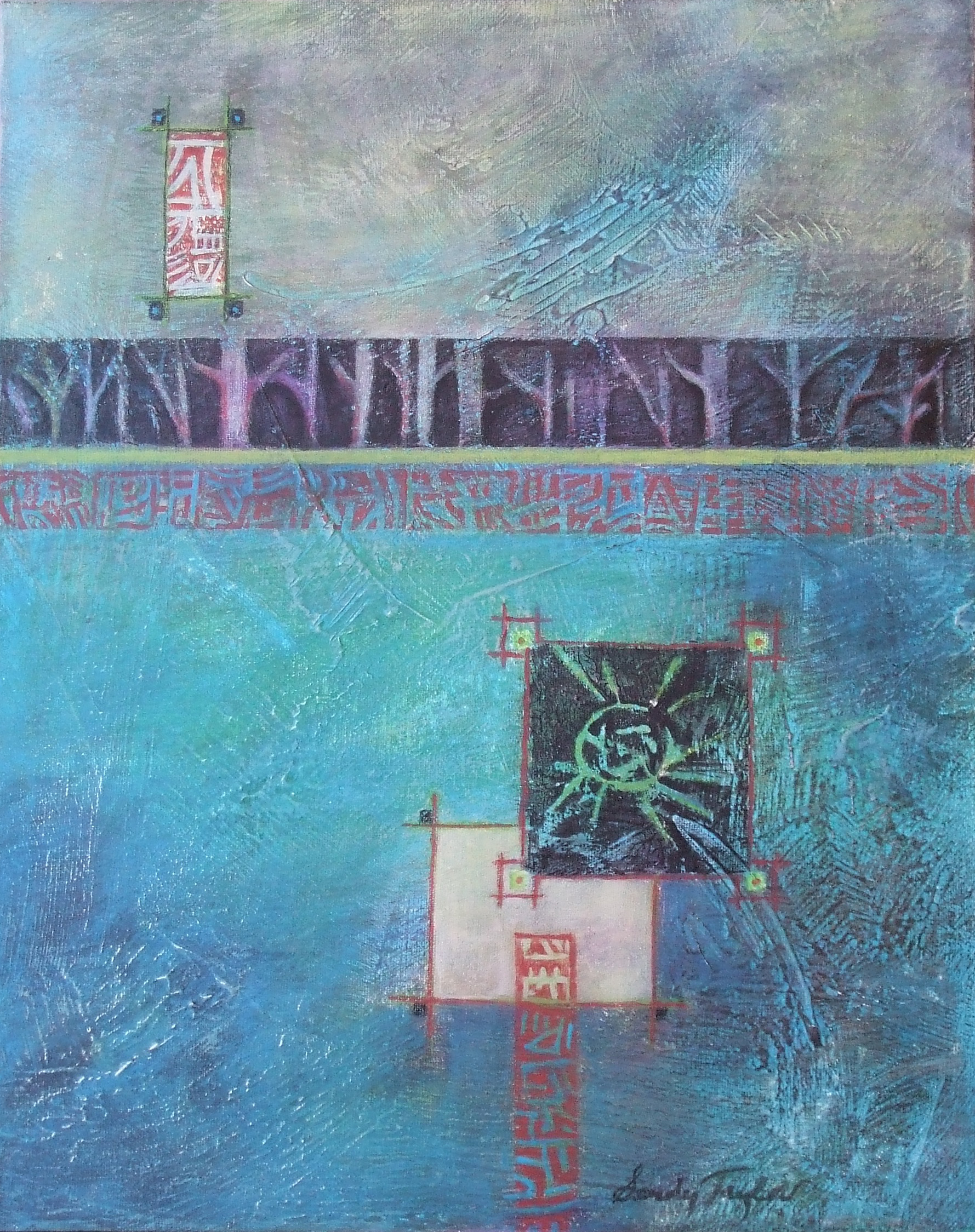 May
Dawn Adams: Midwest Waters
Friday, May 5th, 5-8 PM
Dawn's images of water often depict oceans and bays, but she also feels an affinity for water's smaller forms. For this show she will be exhibiting more intimate views of Midwestern water, which also have the soothing effects of "big water," but are quieter and cushion the soul.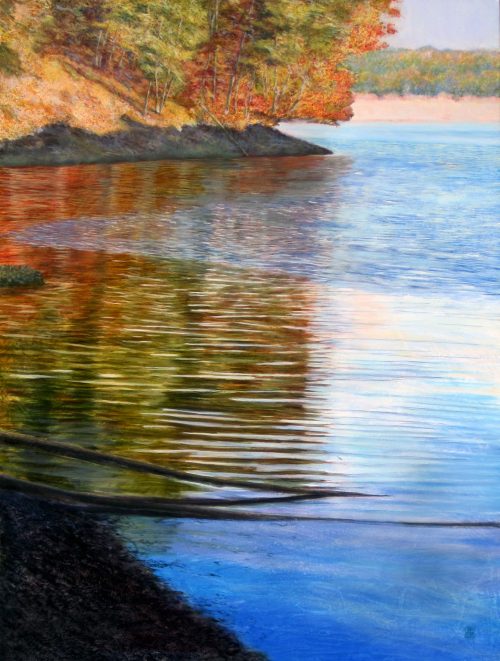 June
Dee Schaad: Tipping the Sacred Cow
Friday, June 2nd, 5-8 PM
Recently, Dee Schaad has concentrated on earthenware, specifically one-of-a-kind, tongue in cheek, figurative pieces based on history, myth and current events. Many have a story to go with the piece. They are made of white earthenware, stained and detailed with colored englobes and glazes. They are then fired to 18500 F. They are again fired with metallic lusters. All are fired multiple times and some are fired as many as five times. These pieces take many hours to complete. Most of the individual figures are designed and ready to hang on the wall. Others are vessel formatted and may be functional, but most are decorative and not very practical. He thinks of them as reliquaries for personal relics.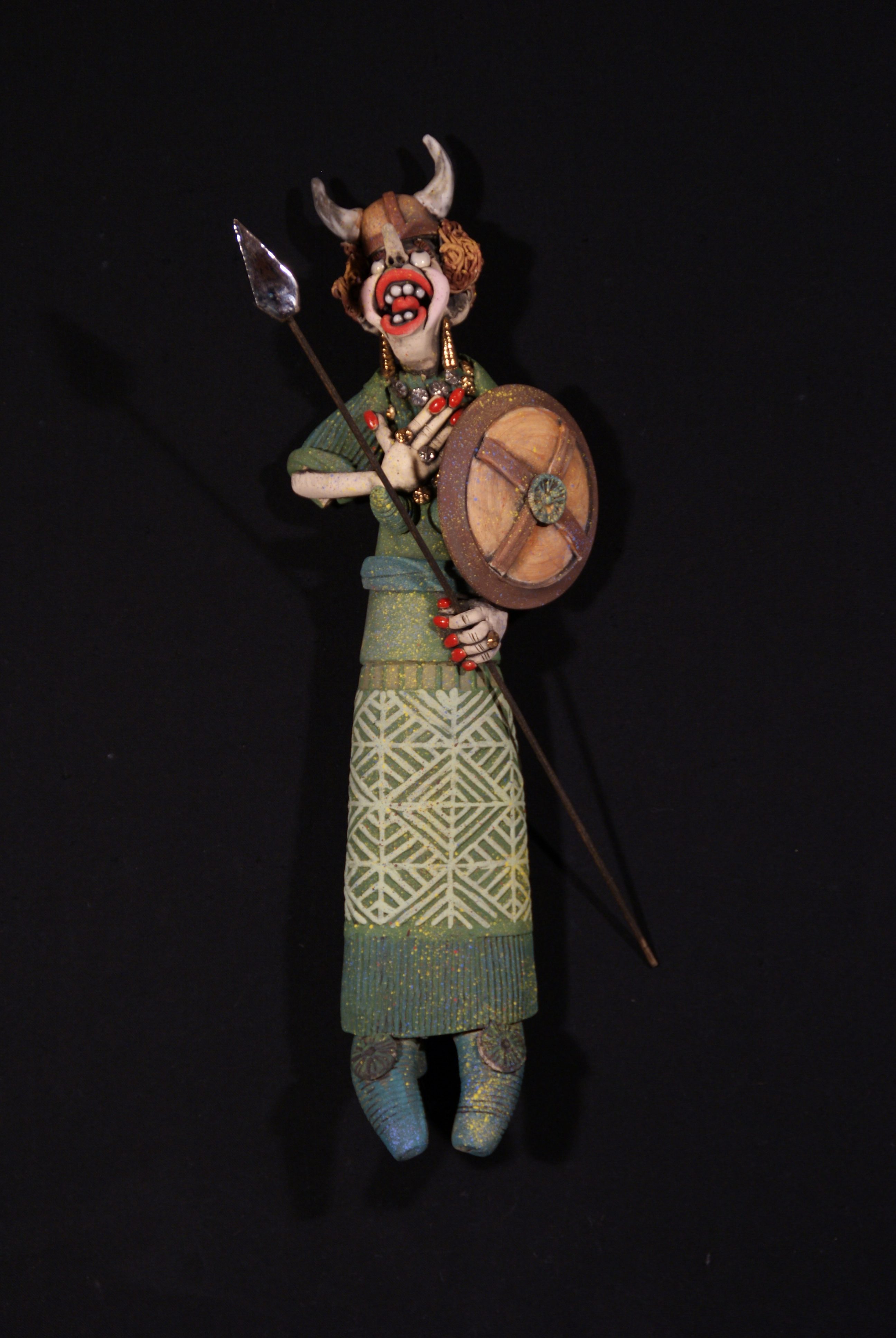 July & August
Mary Uthuppuru: Quiet Observations
Friday, July 7th, 5-8 PM
August, August 4th, 5-8 PM
As a child, she liked two things above most: reading and playing in the dirt. Over time, Mary discovered a love for uncovering the mysterious intricacies of human, plant, and animal behavior. It is now with moxy that she learns as much as she can about the world around her. Literature has been a reliable source with which to understand society, but to appreciate nature, she creates artwork. Artists' books allow Mary to create environments within which the viewer can contemplate or unearth ideas. Straying from traditional book formats allows these experiences and ideas to unfold in response to the person interacting with them.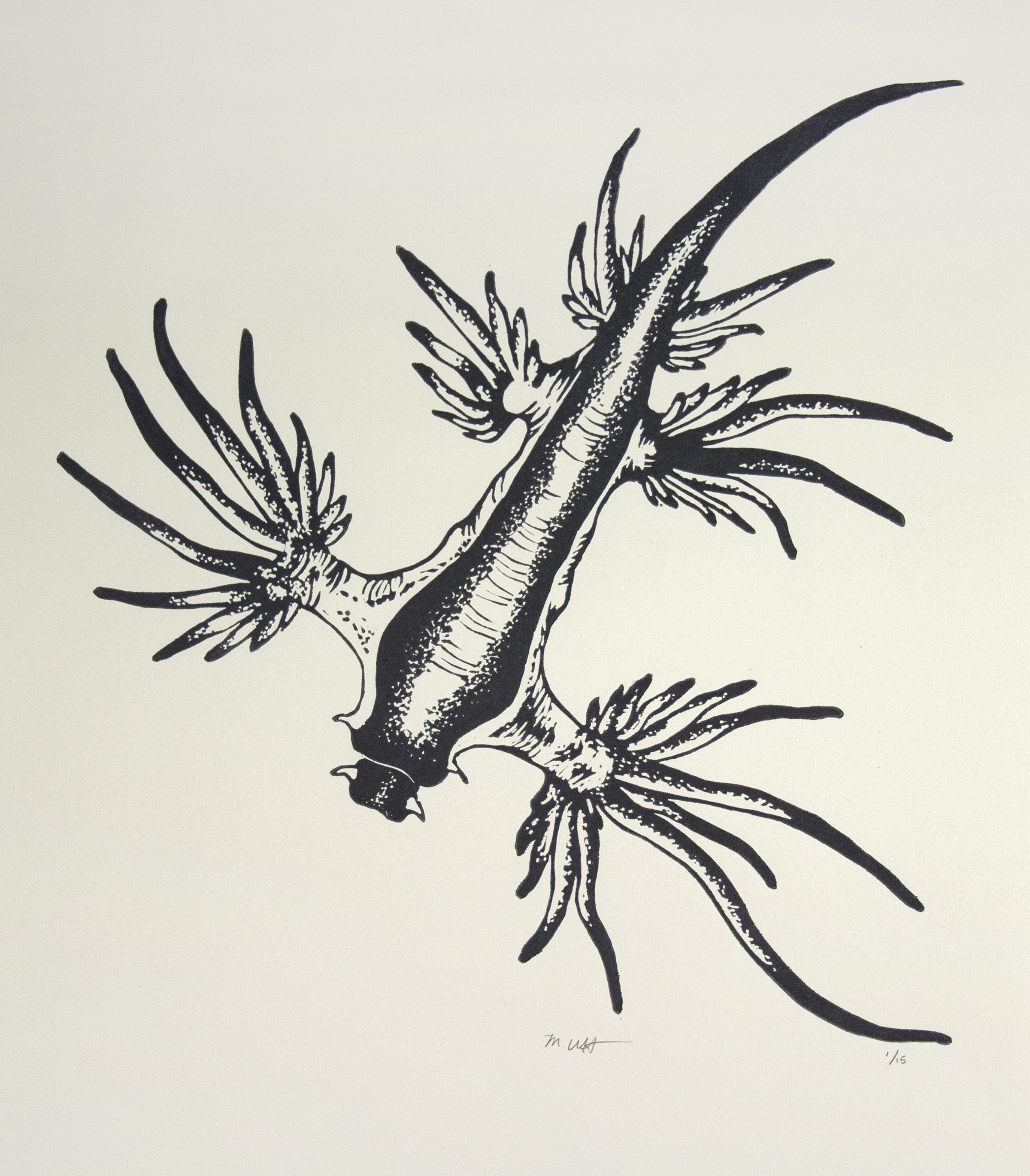 September
Bert Gilbert: Ironography
Friday, September 1st, 5-8 PM
Strong design is important, but Bert Gilbert wants something more, something that questions things. It has to express some idea that he wants to explore. Lately he has been using more packing materials in his sculpture. Bert finds this detritus of our online consumer culture, with its soft corpulent forms, an apt metaphor for the empty opulence of consumerism.
October & November
Rudy Pozzatti: Recent Works
Friday, October 6th, 5-8 PM
Friday, November 3rd, 5-8 PM
Come join us in celebrating the most recent works by local artist, Rudy Pozzatti. His latest fine-art prints and collages will be on display at By Hand Gallery beginning in October, with a smaller selection displayed through the end of the year.
December
Annual Holiday Show
Friday, December 1st, 5-8 PM
Join us in celebrating the holiday season this year during our annual holiday show! We will be highlighting a variety of local artists and artworks. Featured items will include, but not be limited to hats, scarves, pottery, paper art, journals, art boxes, leatherwork, jewelry, ornaments, and wooden bowls.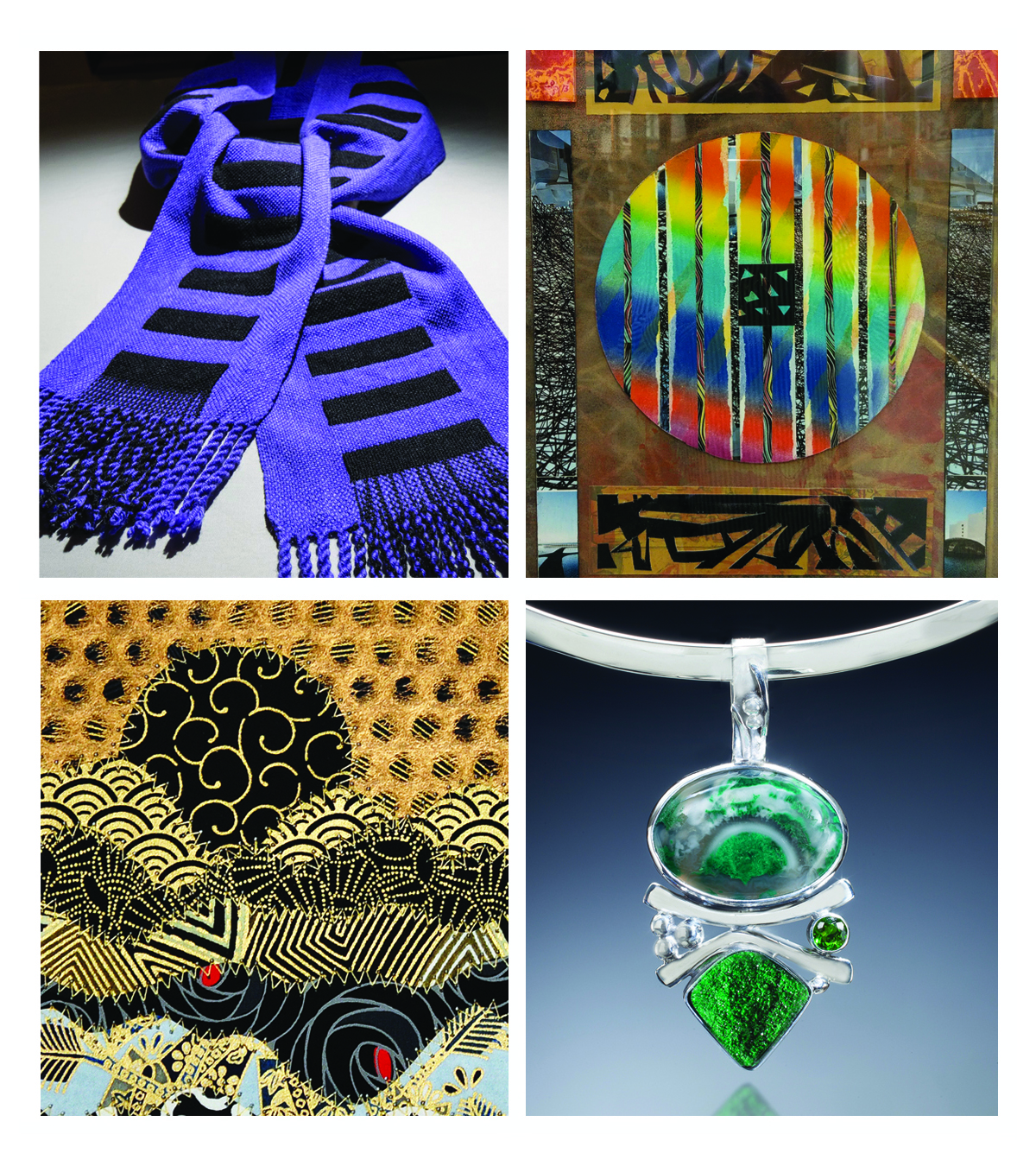 Save these dates and visit the new Gallery Walk Official Website here